Twentyone Olive Trees by Laura Formentini
Nothing could have prepared Laura Formentini for the shocking news of her son's death by suicide. Seeking solace during her time of grief, Laura turned inward to transform her pain and shock into healing and peace. The book traces her path from grief to understanding and healing, shown through a collection of twenty-one fables and poems she wrote to her son Blaise in the year after his untimely death.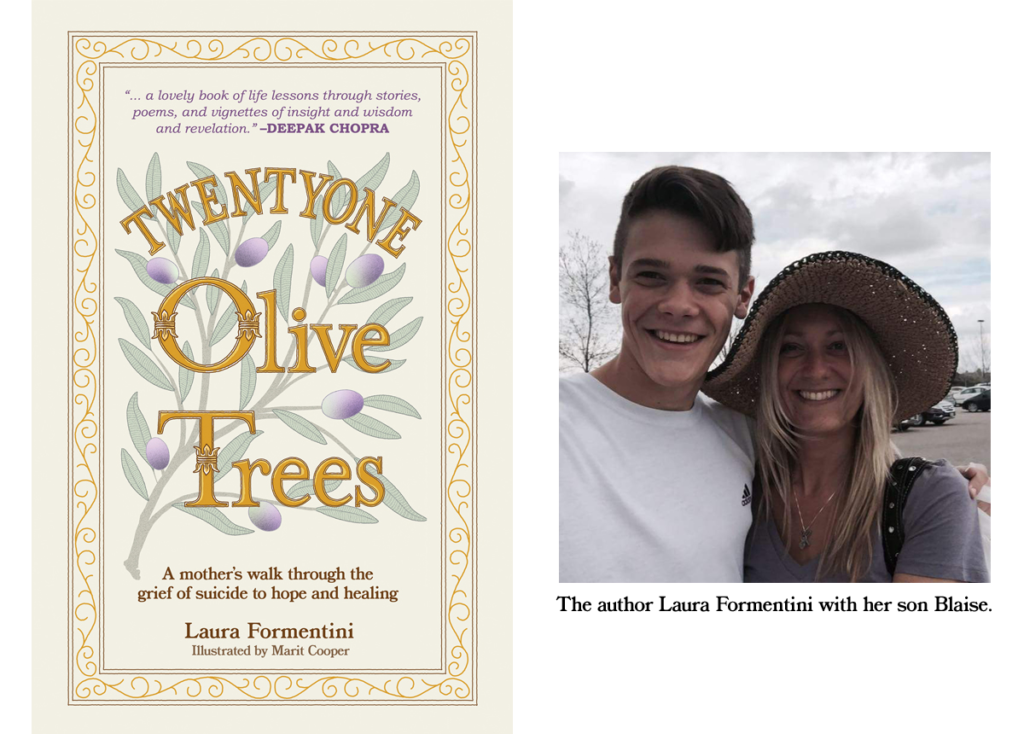 When Laura reached out to me I was immediately moved, not only by her tragic loss, but also by her determination to transform her pain and grief into healing and peace and to gift this very personal story to the world to help those going through their own experiences of loss and dark moments.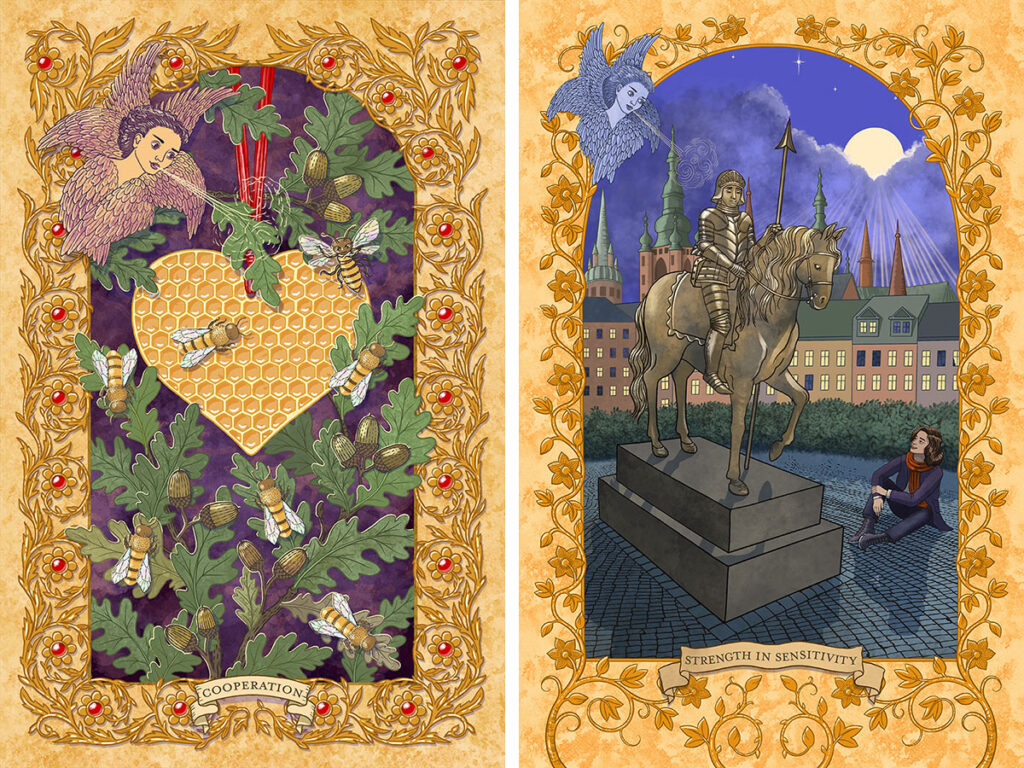 Laura had envisioned her book as being illustrated like a medieval Book of Hours, and I relished the opportunity to create artwork in this style as it is something that has always inspired me. I took every opportunity to indulge in intricate acanthus scroll borders and detailed artwork. The brief was for 21 full page illustrations, illuminated initial letters for each chapter, spot illustrations for the chapter headings and artwork for the cover.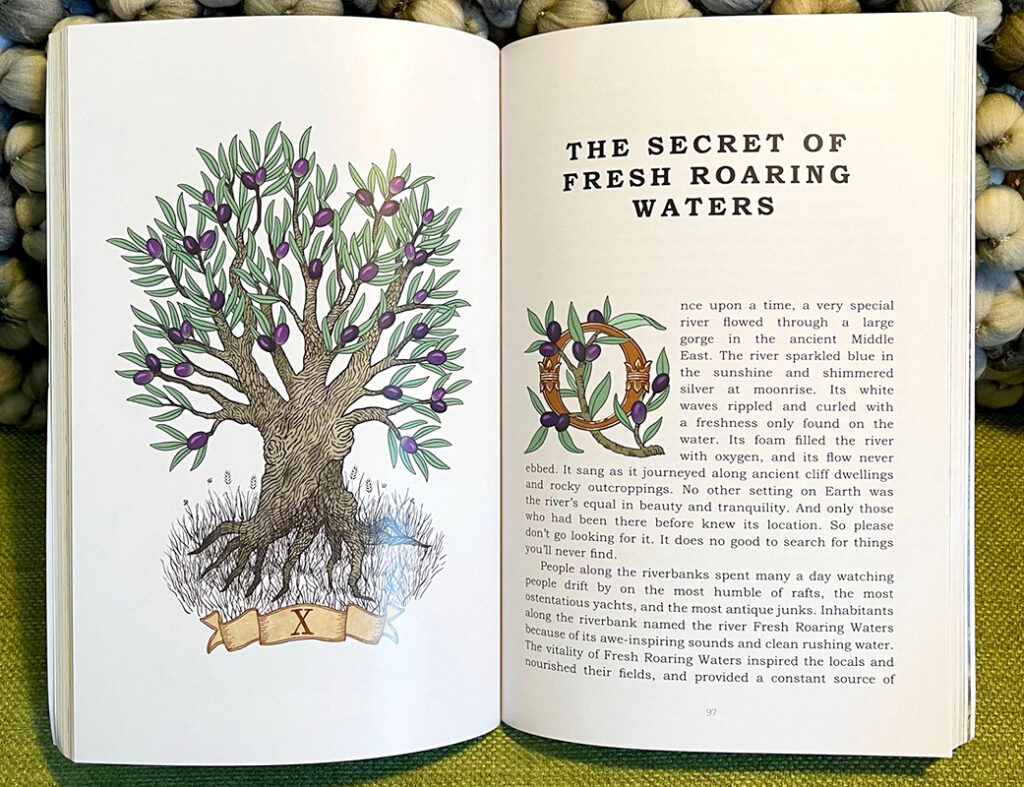 In spite of the serious subject matter it is a book full of hope and healing. It shows Laura's journey from deep grief to a different way of being in a relationship with her son.
"That is where I Find You,
In that Light that Shines its Love,
and which has always been at the
Very Core of My Being."
Twentyone Olive Trees expresses the message that everything has a spirit of its own and everything is interconnected. We miss the physical presence of those who have left us, but ultimately they are still as close to us as our own breath.
"What Difference Does it Make,
Knowing That You have Now Transformed,
And that Here on Earth Your Light will Keep on Shining
Upon those Who have Lost theirs."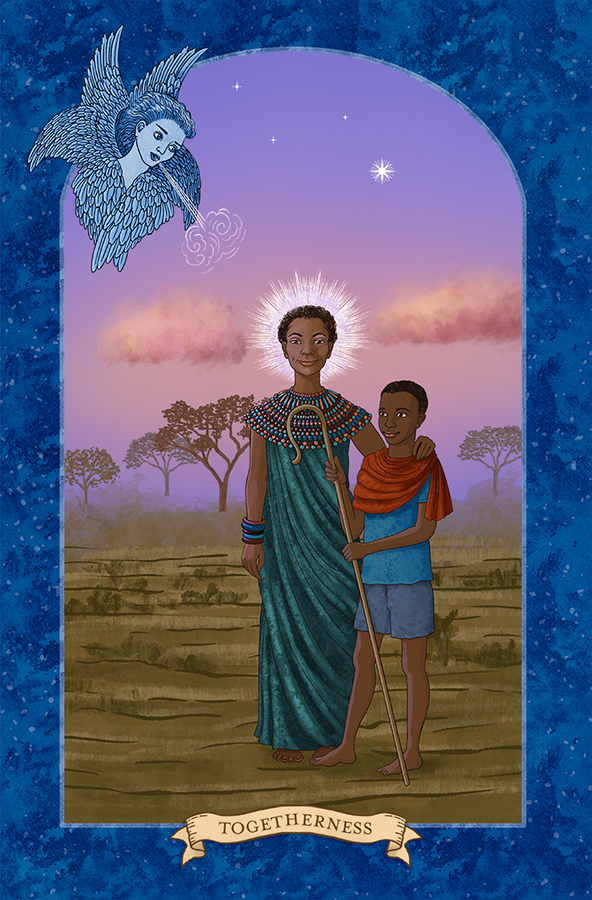 Reviews
The book has received a starred Kirkus review calling it "An offbeat and uplifting contribution to the literature of grief" – Kirkus
Booklife said of the artwork: "In addition to Formentini's writing, the beautiful illustrations by Marit Cooper enhance each fable with memorable renderings of story and character. Cooper includes the most intricate details mentioned in the tales, as well as the recurring figure of Naeltim, the sylph of the air, who plays a special role in every fable, all with simple yet meaningful olive branches woven throughout." – Booklife
New York Journal of Books said: "One of the exceptional aspects of this book is Marit Cooper's illustrations. There is a folk art quality to them reminiscent of illustrations used in some versions of Aesop's Fables or collections of fairy tales. The images create texture for the fables, adding depth that would be missing if the book was text alone." – New York Journal of Books
One Good Reads review said: "Stunning! What a wonderful book. It is illustrated beautifully. Fables are beautiful and have a childlike quality, but have profound messages that inspire and give hope to the reader. This is a moving account of a transformation from overwhelming pain to hope that follows the loss of a loved one." – Good Reads
Twentyone Olive Trees was a No.1 Amazon best seller in April 2022. It is available as paperback, Kindle and Audiobook from Amazon, and many other book shops. At the time of writing this, it is also available in 73 libraries and counting.